Why Consider Declaring Bankruptcy in West Palm Beach?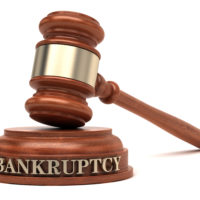 There are a lot of different situations and circumstances that can make it feel like things are spiraling out of control. But few situations feel as hopeless as financial strains and overwhelming debts. It happens to politicians, musicians, doctors and people from all walks of life. Small bills quickly grow into overwhelming monoliths that keep you trapped in cycles of minimum payments. At Bruce S. Rosenwater & Associates, P.A., we don't think anybody should put up with overwhelming debt.
Is Debt a Problem in Your Life?
If your debts have simply become much more than you could ever manage, it's time to speak with our bankruptcy lawyers in West Palm Beach. While each situation is different, bankruptcy in West Palm Beach may be able to provide relief. There are many potential benefits to declaring bankruptcy, including:
Relief from creditor calls. Your mailbox is packed with final notices, your phone won't stop ringing with all the different calls from creditors. But, when you start retaining legal counsel for your personal bankruptcy, all these calls are directed to your legal representatives.

Regaining control. The biggest reason anyone pursues bankruptcy in West Palm Beach is singular, it's to regain control. Whether you choose Chapter 13 or Chapter 7 bankruptcy, you will be fighting for control of your finances.

Fresh start. Bankruptcy is like a clean slate, it brings you a fresh financial start free from the overwhelming issues you've been facing. Chapter 13 bankruptcy can offer a restructuring of your debts that allows you to start fresh with bills and debts that are actually manageable. Chapter 7 bankruptcy can offer a clean slate without many debts.

Your credit can actually improve. Many people think that bankruptcy will ruin their credit. And while bankruptcy does show on your credit record for some time, the processes can actually improve your credit shortly after your bankruptcy in West Palm Beach is complete. This is because bankruptcy removes or reassess debts that may have been dragging your credit score down, giving opportunities for the score to improve.
At Bruce S. Rosenwater & Associates, P.A., our bankruptcy lawyers in West Palm Beach are dedicated to assisting individuals from all walks of life find the help they need to finally break free from overwhelming debts. We're here to help our clients find personalized solutions for their overwhelming debts. If you're fed up with calls from creditors, minimum payment loops, growing debt and other burdens, we invite you to learn how our team at Bruce S. Rosenwater & Associates, P.A. may be able to help. You can schedule a consultation with our bankruptcy lawyers in West Palm Beach by calling 561-688-0991.