The Numbers are In: Divorce Rates Spiking Amid Pandemic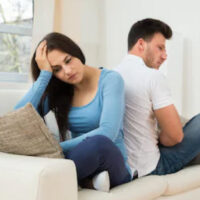 While sometimes the numbers can surprise us, this is a case where our intuition concerning the pandemic and its impact on marriages proved true. With the numbers finally in, we finally have all the evidence we need that the pandemic has had a net negative effect on many American marriages.
Statistics Say: Quarantine is Bad for Marriages 
The number of divorces filed between March, 2020 and June, 2020, was 34% higher than the same period in 2019. In one U.S. county, 433 people had filed for divorce. That's only a hundred shy of the total from all of 2019.
It's true. While some areas of the law have remained relatively stagnant during the pandemic, like medical malpractice or maritime lawyers, divorce attorneys have seen the single greatest uptick in calls and requests for more information than we've seen ever in our lifetime.
The statistics show that those who lived in the Northeastern part of the United States divorced at the lowest rate when compared to the western states. The states in the Southeastern part of the U.S. (Georgia, Alabama, Florida, Mississippi, and into Texas, sought divorces at the highest rates.
Examining the Aftershock 
There is every reason to believe that the cloistering of two individuals with their children in a home together without the capacity to leave is going to put some strain on a marriage. However, it was those in the states that were most affected by COVID (like New York and New Jersey) that showed the lowest divorce rates anywhere in the country. Similarly, states like Alabama that have a lot of rural communities that were not heavily impacted by the pandemic showed the most divorces.
Part of the issue here is the economic fallout of the quarantine. Loss of income and work plagued millions of American families and continues to be a major stressor on their relationships. Money matters, prior to COVID-19, were the number one cause of divorce in the U.S. Now, these couples that were ostensibly having difficulties while together have to also absorb the cost of a divorce.
COVID Has Hurt New Marriages the Worst 
While "gray divorce" is the big topic in the divorce world, COVID-19 divorces appear to be impacting newlyweds and couples with young children the most. In fact, 2% of those who filed for divorce according to the study had a child already on the way. This is almost certainly related to financial stress and the emotional impact it takes on relationships.
Talk to a West Palm Beach Divorce Attorney 
If your relationship isn't going the way you thought it would when you took your vows, call Bruce S. Rosenwater & Associates to discuss your options with a skilled West Palm Beach family attorney. We can help protect your interests and ensure that your children's needs are met. Call today for more details.
Resource:
legaltemplates.net/resources/personal-family/divorce-rates-covid-19/#divorces-increase-in-couples-with-children
https://www.rosenwater.com/jamie-king-files-for-divorce-from-kyle-newman/