Neil Gaiman and Amanda Palmer Announce Divorce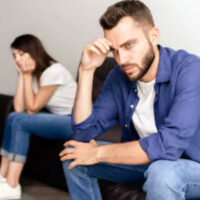 Everyone's favorite post-punk couple, Neil Gaiman and Amanda Palmer announced the couple had split after nine years together. However, even more recently, the couple announced that they were not getting a divorce and that their personal issues became a tad more public than either of them was comfortable with or expected.
The quarantine has been difficult on a number of couples all over the world. Not only are divorce rates increasing rapidly, but domestic violence is on the rise as well. So is alcohol consumption and drug abuse. In other words, it's a difficult time for everybody.
Gaiman is the author of several fairytale-inspired fantasy novels and is one of the most beloved authors of our generation. Amanda Palmer came to fame as the lead singer of the band The Dresden Dolls and continues to make music.
What Happened? 
Palmer posted on Instagram that Gaiman had left the couple's New Zealand home and was heading back to the UK where he was born. Of course, this occurred in the middle of quarantine and Palmer was left behind with the couple's four-year-old son which did not please Palmer. Gaiman later said that the couple was not splitting up, they just weren't having a good time of isolating together and that was putting a strain on their relationship. The couple is now self-isolating on different continents.
While Gaiman hasn't been forthcoming with details, he did tell the press that he had hurt his wife's feelings quite badly and found themselves in a difficult place emotionally. This led to the split.
Palmer released a statement that the split had nothing to do with COVID-19, but the couple released a joint letter discussing the public fight. Gaiman seemed to indicate in this letter that the lockdown has been hard on them, but their struggles are no different than the struggles of millions of others around the globe and, in fact, that their troubles were trivial compared to some.
That the quarantine has taken a major toll on marriages is now openly known. Marriages that were on the brink of falling apart prior to the coronavirus lockdown have mostly been pushed over the edge. Couples are dealing with being forced to be around one another and their families twenty-four hours a day and seven days a week. Meanwhile, many are struggling financially and even those who were once millionaires are feeling the pinch of money lost from investments.
Perhaps Gaiman and Palmer have provided a blueprint for couples who love one another but just can't stand being around each other all the time under stressful conditions. The separation appears to be an attempt to save their marriage as opposed to declaring it over.
Talk to a West Palm Beach Divorce Attorney Today 
If you're struggling with your marriage right now, you're not alone. The quarantine is taking its toll on everyone. If your marriage has gone past the point of repair, call the West Palm Beach divorce attorneys at Bruce S. Rosenwater & Associates to learn more about how we can help.
Resource:
vulture.com/2020/05/neil-gaiman-and-amanda-palmer-arent-divorcing-says-gaiman.html
https://www.rosenwater.com/mary-kate-olsen-denied-emergency-divorce-filing/