Economists Predict Spike in Bankruptcies After Coronavirus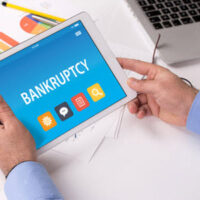 The Federal and state governments are doing everything in their power to protect people from the deadly spread of the coronavirus. This not only includes shelter-in-place orders and social distancing, but it also includes provisional amendments to the bankruptcy code and other measures that will prevent foreclosures and evictions.
But as we're still in the early stages of the coronavirus, we can't be sure what precisely will be necessary to right the economic ship.
Several Companies Filing for Bankruptcy 
Amid the shutdown, there are several industries that are struggling right now, but none more so than retail. As retail is widely considered "not essential business", malls and department stores (that don't sell food or produce) have been shut down awaiting word that the worst of the virus is over.
Meanwhile, big banks are girding themselves against the worst the economic shutdown has to offer being bolstered by over $35 billion in assets to prevent a flood of bankruptcies occurring all at the same time.
Twenty-Two Million (and Counting) Unemployed 
There are currently 22 million Americans who have lost their jobs (and health care) amid the coronavirus shutdown. Some of these individuals are having a very difficult time even applying for benefits as phone lines are clogged up with callers and websites are failing to handle the traffic. Meanwhile, mortgage, rent, utilities, credit card payments, and more are due.
Many governors have placed a moratorium on foreclosures and evictions during this period, but once the coronavirus is over, lenders are going to expect their money. Meanwhile, loans are accruing interest and Americans don't have the income to pay these debts.
Obviously, this is driving many to consider bankruptcy, but the worst may be yet to come. While the unemployment rate currently stands at 10%, some economists believe it could go as high as 33% before it starts to settle down. This is not only because Americans are struggling to pay their bills, but so are the companies that they work for.
Considering Bankruptcy? Here's What You Need to Know 
No one in America is more popular right now than bankruptcy attorneys. Our phones are blowing up 24/7. Folks are calling us in a panic because they can't pay their bills. But bankruptcy is not something you should do in a panic.
Why? The answer is simple. Once your bankruptcy is authorized and your discharge is complete, you will not be able to file for another bankruptcy for eight years. So when you do file for bankruptcy, you want to be sure that the timing is perfect to prevent even more serious problems down the road.
Talk to a Bankruptcy Attorney 
Worried about the coronavirus' impact on your finances? You're not alone. If you're struggling financially right now, you should contact the West Palm Beach bankruptcy attorneys at Bruce S. Rosenwater & Associates. Bankruptcy may not be the right answer right away, but we may be able to suggest alternatives that work just as well. Call to learn more.
Resource:
cnn.com/2020/04/17/business/bank-earnings-defaults-recession/index.html
https://www.rosenwater.com/mortgage-forbearance-during-the-coronavirus-quarantine/