3 Ways a Guardianship Attorney Can Help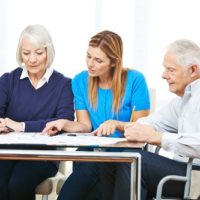 Our family, loved ones, and property are important to us, and we want to make sure that everyone is taken care of, shall we pass away. This is where a great guardianship attorney can assist. Most individuals will want to set up a plan to ensure that their loved ones are secure. With years of experience, Bruce S. Rosenwater & Associates' guardianship attorneys in West Palm Beach are here to help.
ELECT SOMEONE TO MAKE DECISIONS
When individuals cannot speak for themselves, anyone can take over and start making decisions. This is incredibly scary, especially if this person does not have you or your family's best interest at heart. Without a guardianship plan, your children's future and your belonging's new owners are undecided. Don't make that mistake. Hire a professional before it's too late.
WE'LL HELP YOU DRAFT
At Bruce S. Rosenwater & Associates, we can assist you in drafting the perfect plan. We'll make sure that it's sturdy, secure, and court worthy before we give you the okay. Many individuals don't realize that the court has many qualifications when it comes to guardianship plans. With our extensive knowledge and experience, we can help you make the right decisions, with you and your family's best interest in mind.
PEACE OF MIND
When drafting a guardianship plan, you'll want to know that you have a professional attorney on your side, shall you need them. These processes are incredibly time consuming. There may also be issues if money is involved. We'll talk through potential risks, worries, and possibilities to ensure that your guardianship plans are under lock and key, unavailable to disruptions.
Besides guardianship plans, the attorneys at Bruce S. Rosenwater & Associates can help with a number of guardianship issues. A few may include trust litigations, exploitation of the elderly, appointment of guardian for a minor, guardianship for elderly, living wills, healthcare decisions, and more. Knowing that your family is safe and secure is a huge relief. Don't make the wrong choice and wait until it's too late. Life happens quickly, and sometimes, unexpected incidents occur. To ensure that your family, property, and children are always taken care of, call our guardianship attorneys in West Palm Beach today.