When Does a Prenuptial Agreement Make Sense?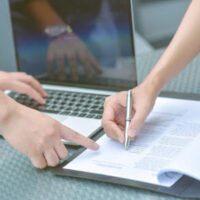 Some of those who are engaged find themselves torn between protecting their assets from a divorce settlement and hedging their bets when it comes to the success of their marriage. It's not a particularly good feeling for either the spouse requesting the prenuptial agreement nor the spouse who is expected to sign off on it. But prenuptial agreements do more than protect your assets in a failed marriage. Below, we'll discuss what you need to know and when it makes sense to enter into a prenuptial agreement.
Division of Property in Divorces 
If you have a business that you've worked hard to grow, it definitely makes sense to protect it if there's even a possibility of divorce. While most folks assume that the other spouse will get half of their stuff, that is far from the truth. A spouse in a divorce is entitled to half of the marital estate. That means that any property you owned prior to the marriage is yours and yours alone. It would not be subject to division.
However, there is a caveat. If you start out a business that is appraised at $100,000 before your marriage and you stay with your spouse for ten years, any increase in the value of the business is part of the marital estate. That means $100,000 of the business belongs to you and you alone. If the business is now worth $1,000,000, $900,000 belongs to the marital estate.
For obvious reasons, a divorcing couple may not want to own or run a business together. In that case, a prenuptial agreement can protect a spouse's business so that it isn't clouded with multiple owners.
Using a Prenuptial Agreement to Avoid Litigation 
Couples can (and sometimes do) have prenuptial agreements in which the only provision is to try mediation prior to entering into litigation. Mediation has several advantages over litigation, although it is not appropriate for all divorces. Not only are the results of mediation kept out of the public record, but those who would otherwise litigate their divorce stand to save thousands of dollars in attorneys and court costs.
Using Prenuptial Agreements for Estate Planning 
Prenuptial agreements don't have to foretell doom for a marriage. Used effectively, it can make sense for high-asset couples to use prenuptial agreements to determine how their assets will be passed on once they're gone. While it's certainly true that couples can and do use prenuptial agreements to separate certain assets from their marital estate, prenuptial agreements can leave behind rules that determine how your assets would be distributed in the event of your death.
This can prove especially useful to those who have adult children from a previous marriage. They would very likely want to ensure that their children were well provided for, but without a prenuptial agreement, those children may not be entitled to their fair share of your estate.
Indeed, prenuptial agreements are much more useful than you probably think. For more information on prenuptial agreements, talk to the West Palm Beach family attorneys at Bruce S. Rosenwater & Associates, P.A. today.
https://www.rosenwater.com/the-florida-woman-who-was-arrested-for-turning-in-her-husbands-guns/