Rights For Florida Fathers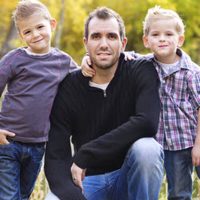 Florida has laws in place so both parents can have a healthy relationship with their kids, even if the parents themselves are no longer in a relationship. While it is more common for dads to share custody than it was in past decades, if you are a father you should not assume you will be granted a fair arrangement without seeking legal guidance. There are still court decisions that tilt in favor of the mother having custody and overseeing the decisions of upbringing.
Divorce can be upsetting emotionally and legally complicated, particularly if there are children and the parents are unable to negotiate a parenting plan they both feel comfortable with. If you are a Florida father seeking help, connect with a West Palm Beach family attorney.
Advantages to Sharing Custody
It is often best for the wellbeing of children to spend time with both of their parents. Of course, this is not true if there is abuse in the family, but if both parents want to support and nurture the kids, having a father figure can be an important part of a child's development. According to one report, kids who grow up without a father are more inclined to have academic issues and to participate in unhealthy, dangerous behaviors.
Ways timesharing can be beneficial:
Children have supportive relationships with both parents and family members of their parents.
There is an equitable distribution of childcare giving each parent a break from the stress of child rearing.
Kids who have both parents in their lives have a reduced risk of experiencing anxiety or depression.
Children are more likely to excel academically and less likely to drink alcohol.
With so many advantages, shared parenting is often the best solution for all parties involved. But there are situations in which ongoing arguments and disputes make designing a parenting plan difficult. If this is true for you, a Florida divorce lawyer can help.
Child Support Payments and Other Financial Concerns
It is important to recognize that dads have a financial responsibility to support their kids as well. During the negotiation of a divorce agreement, it will need to be determined if there will be child support payments and if one parent will be responsible for certain child expenses, such as tuition payments or extracurricular fees.
With so many details to work through, the process can be overwhelming. But you don't have to learn all the ins and outs of Florida family law. Instead, connect with a seasoned West Palm Beach family attorney.
Is it time for you to talk to a lawyer about your rights as a father in the state of Florida? The skilled legal team at Bruce S. Rosenwater & Associates has guided many dads through  the child custody process and are able to walk you through your options once they understand the details of your situation. With skill and experience, our lawyers can create a parenting plan that benefits the kids and secures the future you want. Connect with a seasoned attorney today so you can begin to move forward. To get started, schedule a consultation today.