Navigating Vacations With Kids After A Divorce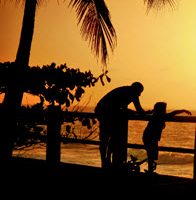 There are many reasons to set aside time for a family vacation. Many find taking trips with their kids promotes healthy bonding and can help everyone, adults and children alike, relax and let go of some of the daily stress they experience in connection with their school responsibilities and career commitments. But after a divorce, the dynamics of taking kids on vacation can significantly change.
If you have questions about coordinating vacations with your kids after a divorce, including how to put the proper planning and communication tools in place, connect with an experienced West Palm Beach family attorney. Having effective legal documents in place can smooth co-parenting experiences and lay the groundwork for enjoyable vacations during your designated parenting time.
Create a Parenting Plan that Includes Vacation Schedules
A well-crafted parenting plan is an essential tool for parents who are divorced and co-parenting. It helps both parents understand their roles and responsibilities and provides a framework for managing time with children.
In your parenting plan, you should include a vacation schedule that outlines when each parent is entitled to take the children on vacation. It should include details on the duration of the vacation and if there are any special considerations.
For example, if a parent is taking the kids out of the state or country, you may want the parenting plan to include language about a parental obligation to provide the other parent with a travel itinerary and emergency contact information.
Communicate Effectively with Your Ex-Spouse
Communication is key when effectively co-parenting. While it can be challenging to communicate with your ex-spouse, it is essential to ensure that both parents are on the same page regarding vacation schedules and any special arrangements that need to be made.
Thankfully, there are many communication tools that divorced parents can use to stay in touch without having to meet and have face-to-face conversations. While some parents rely on emails and text messages, others find o-parenting apps such as OurFamilyWizard, Talking Parents, and Cozi to be helpful when managing schedules, sharing expenses, and communicating travel plans.
Be Flexible and Open to Compromise
When possible, being flexible when planning vacations with kids after divorce can be helpful. For instance, there may be an unexpected event change that requires plans to change. If a wedding date changes and you are open to compromising on parenting dates for your ex-spouse to attend the celebration with your kids, that consideration could go a long way if you have a scheduling change of your own at a future date.
You can even include language within a Florida parenting plan that allows for some flexibility, but still has set rules in place. Talk to a West Palm Beach family attorney about what your parenting plan should contain.
Is scheduling family vacations with your kids becoming an area of dispute now that you and your spouse have separated? Negotiating through parenting issues and creating a well-crafted parenting plan is advised. To learn more, reach out and discuss your situation with the lawyers at Bruce S. Rosenwater & Associates. Book your free initial consultation today.