Choosing To Separate Or File For Divorce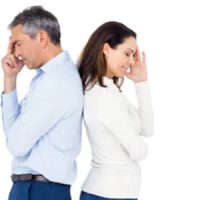 Marital problems happen, but when the bad times far outweigh the good, it may be time to exit the marriage. But in these times, it can be difficult for spouses to know whether it is time to try a separation or file for divorce. Making the decision to end a marriage is never easy, but giving yourself time and space to make clear, well-thought-out decisions can help you begin to build a life you will thrive in.
Of course, there are many emotional factors to assess, but there are also professionals who can share with you what a separation or divorce would mean for you so that you can plan ahead. Before making any big decisions, talk through what is possible with an experienced West Palm Beach family attorney.
Analyzing Choices and Going Slow
The decision to separate or file for divorce is not one that should be taken lightly. It is important to take the time to think about your options, and to seek professional advice from a family attorney who can help you understand the legal avenues to consider and advise you on the best course of action for your situation, including weighing the pros and cons of each option.
Having a support system, such as friends, family members, and legal professionals, is also part of taking care of yourself, which is essential when going through a life period that is as emotional and stressful as a separation or divorce. In fact, while many find the support from family and friends helpful, it is also common for individuals to report that speaking with a professional counselor brings healing and relief.
Thinking About Your Future
Making solid decisions can help to ensure that you are doing what is right for yourself and your family. Consider the impacts to your financial situation, your living arrangements, and your children's needs. When children are part of the family, there are also custody arrangements, visitation schedules, and child support payment possibilities to review.
It can also be helpful to minimize conflict between you and your spouse, and this could be achieved by working with professionals outside of the marriage. For example, your lawyer can talk to your spouse's lawyer to be sure that you are both on the same page when it comes to making decisions, possibly outlining a co-parenting agreement that can be followed while spouses are separated. Then, the spouses may reunite at a later date, or if divorce is pursued the separation agreement could be a launching point of discussion of final divorce terms.
A West Palm Beach family attorney can help you navigate the process. By seeking professional advice, considering your options, and making clear decisions, you can make a difficult period as smooth as it can be, despite disputes
Could you use legal advice on how to handle a separation or divorce in the state of Florida? There are family law experts who are available to help, have a conversation with the attorneys at Bruce S. Rosenwater & Associates. Book your free initial consultation today.