Is Bankruptcy in Your Future?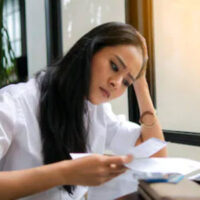 The situation with COVID-19 is unprecedented, but experts have been warning of a wave of bankruptcies coming in the next few months. As unemployment benefits and mortgage foreclosures are expected to expire, the flood of consumer bankruptcies is coming. However, government safety nets have forestalled (if not eliminated) the wave of bankruptcies.
Consumer Bankruptcy Filings Drop from April to June 
While it may sound counterintuitive, consumer bankruptcies actually dropped from April till June. What July and August have in store heading into the fall is another matter.
Government stimulus packages helped stem the flood of bankruptcies, but the real problem is that most American households weren't in a great position before the pandemic struck. The stimulus packages have worked as a bandaid to prevent gushing, but eventually, that gushing will occur.
Even before the pandemic began, American households held more personal debt, including mortgage debt, than ever before. The government passed legislation placing a moratorium on all evictions and foreclosures, but for Americans who couldn't pay, that debt simply piled up. Now that the bill has come due, creditors and borrowers are both scrambling to come up with some new way to prevent millions of Americans from becoming homeless overnight.
Why Americans Aren't Filing for Bankruptcy 
Americans don't like bankruptcy. They feel like it's a personal failure. The stimulus packages have given American consumers a way to forestall the inevitable. But the inevitable is still inevitable. When rent and mortgage payments come due again, those who weren't able to pay off their debts during the pandemic will be required to pay them all in one lump sum. Millions of Americans won't be able to.
Depending on what Congress and the President do next, those bankruptcies could either be forestalled another few months or allowed to flood the court system.
The Virus and Unemployment Remain a Problem 
In a rush to defibrillate the economy, America opened back up again in April and May. But now, reports of a resurgence of the virus have scared several states into closing. This could become the norm moving forward. States will declare that businesses can once again reopen, but once these businesses reopen, the number of COVID cases spike. So we won't see that pattern stabilize itself until after there is a vaccine.
The double-digit unemployment rate remains a significant problem. Several industries, including retail, entertainment, hospitality, and even health care, have seen major dips in revenue. Creditors and banks are likely to see a sharp rise in the number of defaulted loans and credit card debt. Many creditors will offer rehabilitation options to borrowers, but the borrowers will still need to prove that they can pay. Not everyone will qualify.
Is Now the Time to Consider Bankruptcy? 
Before you make any decision, you should be aware of all your options. The West Palm Beach bankruptcy attorneys at Bruce S. Rosenwater & Associates offer free consultations to prospective clients. There is no requirement to begin the process of bankruptcy, but knowing about your options in bankruptcy can help prevent you from losing valuable assets you could otherwise keep. Call today for more information on how we can help.
Resource:
nytimes.com/2020/07/17/business/personal-bankruptcies-coronavirus.html
https://www.rosenwater.com/economists-predict-spike-in-bankruptcies-after-coronavirus/