How To Schedule Holiday Time With Kids After A Divorce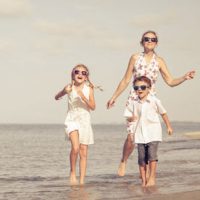 If you and your spouse have children, one of the most significant challenges of your divorce process could be figuring out an optimal parenting plan, including how to allocate holiday time with the kids.
Navigating parenting time can be difficult for all involved, but with proper planning and the guidance of a skilled West Palm Beach family attorney, you can make the process smoother and less stressful. Including holidays and special dates in your parenting plan is an essential step in avoiding future disputes.
Including Holidays in Child Custody Arrangements
Holidays are important times full of traditions for many families. After all, holidays are an opportunity for families to come together, spend time with one another, and create lasting memories. Because of this, there can be a lot of expectations about who will be in attendance when it comes to holiday gatherings, which is one of the reasons why it's important to include holidays in your child custody arrangement.
Scheduling holiday sharing in advance means everyone knows what to expect and there's less room for conflict. Your child custody agreement should specify which parent gets the kids for which holiday, how much time they'll have, and how the pickup and drop-off will work. Doing so will provide clarity and ensure that both parents are aware of the arrangements for the holiday season.
As you go through the process of designing a parenting plan that works for you, your spouse, and your kids, be sure all notable dates are included. A parenting plan is a key tool for divorced parents, it is a written agreement that outlines the details of how a child will be raised after the divorce. When you include a detailed schedule of when each parent will have parenting time, how decisions will be made, and how any disputes will be resolved, it can put minds at ease.
Lawyers Know How to Craft a Complete Plan
There are a lot of emotions when it comes to sharing parenting time, but a skilled divorce attorney can help guide you through the parenting plan crafting process and make sure that you have the right plans in place to avoid future disputes. With time and care, your attorney can negotiate a parenting plan that works for both parties and is in the best interests of your children.
As you move to end a marriage and establish a parenting plan, remember that the most important thing is to prioritize the needs and interests of your children. A West Palm Beach family attorney has the experience needed to create a plan that ensures that everyone has the opportunity to create happy holiday memories.
Could including detailed information about sharing holidays strengthen your parenting plan? A Florida attorney can provide guidance on how to handle any issues that may arise while creating a parenting plan. An attorney can also help you enforce any agreements made regarding holiday time with your kids, if necessary. Talk to the legal experts at Bruce S. Rosenwater & Associates to learn more. Book your free initial consultation today.