How the Coronavirus Changed One Divorced Couple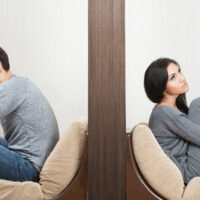 If you're like just about anyone, then you heard that the coronavirus was making its way through China and then onto into Italy where it wreaked a tremendous amount of havoc, taking the lives of thousands and grinding Italy's health care system to a halt as there were not enough beds available. You may have heard that the number of divorces increased in China, which is only half true. But a recent article posted by the New York Times ran with one divorced couple that came together during this time of uncertainty to care for their children.
In this article, we'll take a look at their story.
Divorcing Couples and Their Children 
One of the major considerations of any divorce is what will happen to the children. This was certainly the case for Hannah Ingber who described her situation with her soon-to-be ex-husband with whom she shared custody of their boys, ages 4 and 6. She recounts that at the time, the two were arguing about everything. She said that they both had the best interests of their children at heart, but there was very little agreement on what those were. But all that changed once news broke that the coronavirus had made its way into America and could potentially wreak the same kind of havoc that it has overseas.
Of course, the author was worried over what would happen once the quarantine went into effect. Would her spouse take the matter seriously as she did, or would be keeping his normal routine throughout the entire thing?
But instead of just another squabble over the manner in which the virus should be handled, her spouse and she agreed on nearly every element of how to handle the situation. He assured her that he would stop traveling and the two made a pact to be open about whether or not they started developing symptoms. In fact, the two agreed on almost every element of agreeing to implement the CDC recommendations on how to proceed. This meant no more playdates with friends. It meant no more trips to the playground. They created schedules for their children and texted them to one another so that everyone was on the same page.
This story isn't unique to other divorced couples in the country right now who are managing a difficult situation and trying to do what's best for their kids. No, it doesn't end with the couple patching their differences and calling off the divorce, but it does show you what two parents (who may not agree on anything) can do once they respect each other's choices and work together toward the raising of their children.
Talk to a West Palm Beach Divorce Attorney Today 
If you're struggling in your present situation with your spouse, you may be considering divorce. The West Palm Beach divorce attorneys at Bruce S. Rosenwater & Associates can represent your interests when drafting a divorce decree and pursue the matter with the courts when necessary. Call today to learn more about how we can help.
Resource:
nytimes.com/2020/03/20/parenting/coronavirus-divorce-coparenting.html