Forms of Income Assessed When Determining Support Payments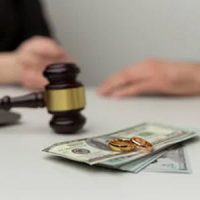 When navigating a divorce, there are practical considerations such as financial matters. Depending on your situation, you may be concerned about how much you will be required to pay your ex-spouse or if you will be receiving payments, worries about it being enough to cover your household expenses could be top of mind.
Talk to a West Palm Beach family attorney about your post-divorce objectives and how support payments are determined, including the assessment of various forms of income. Understanding how you and your ex-partners resources will be calculated will assist you in planning for your financial future.
Earned Income, Self-Employment, and Investments
Often the most easily understood form of income is earned income, which includes wages, salaries, and tips received through employment. There is a straightforward way this base income which reflects the individual's regular earning capacity is calculated when it comes to Florida support payments,
From there, variable compensation will also be assessed. This could be workplace bonuses or overtime pay, for instance. Looking over past income records will illustrate if these variable compensation forms can be expected, such as end-of-year bonuses that occur annually.
Calculations can become more complicated when one or both individuals are self-employed. There will need to be a full review of business revenues and business expenses. Once expenses are deducted from revenue, a net income figure is set. Time and care is required during self-employment income review, it is common for people to intentionally under-report these figures.
Additionally, if either party owns properties they rent out, the rental income generated can factor into income amounts and support payments. Investment income, such as dividends, interest, and capital gains, will also be analyzed.
Legal Experts Can Guide You Through Complexities
Sometimes support payments can be calculated with payment charts, but often it is difficult to land on a full and fair figure through charts alone because a lot of cases have various forms of income that need to be reviewed. A legal professional who has a deep understanding of family law and financial matters can guide you through this complex analysis process, ensuring that all sources of income are accurately reported so that every figure will be included.
Whether your case includes sources like pensions, annuities, and alimony received from previous marriages, or you believe your ex-partner is voluntarily unemployed or underemployed to skew the numbers, talk to a West Palm Beach family attorney. Often a fair agreement can be reached through negotiation, and if court assessment is required, an individual's education, training, and past work experience will also be looked over in order determine their potential earning capacity.
Have you been going over financial records but are still unclear on how support payments will be calculated? The lawyers at Bruce S. Rosenwater & Associates are skilled at unknotting financial intricacies, advocating for your best interests, and working toward equitable support arrangements. Attorneys know how to take into account various forms of income. To have years of Florida family law experience on your side, book your free initial consultation today.