Marriage and Immigration in Florida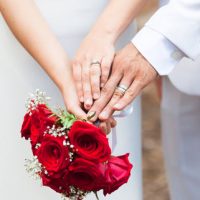 Marriage is a significant legal step. The legality of a marital union is important for a variety of reasons, including for individuals who are navigating the immigration process in Florida.
To receive answers to your questions about how marriage and immigration rules intersect in the Sunshine State, talk to a West Palm Beach family attorney. A seasoned lawyer can share with you the types of documentation you will need to legally establish your marriage and secure legal residence.
Steps to Legal Residence via Marriage
If you or your partner is a non-U.S. citizen seeking legal residence in the United States, it is possible the two of you getting married will be a viable pathway to securing that objective. If the non-U.S. citizen spouse enters the country on a valid visa or status, getting married to a U.S. citizen or a lawful permanent resident opens doors to permanent residence.
When making the decision to access residence through marriage, it is crucial to understand that the marriage ceremony itself does not automatically grant legal residence or citizenship. There is a legal process that needs to be followed, and a legal professional can guide you through the process.
Marriage certificate. Your first step will be to secure a valid marriage certificate. In the state of Florida, you can apply for a marriage license at any county courthouse, and both partners must appear in person to apply. Once you are married, the marriage certificate will be released, a crucial document in the immigration process
Proof of identity. Both spouses need to provide proof of identity, whether that is a valid passport, birth certificate, or another form of government-issued identification.
Affidavit of support. An official permanent resident form (Form I-864), the affidavit of support is a piece of documentation that demonstrates the qualifying spouse's commitment to financially supporting the immigrant spouse.
Proof of legal entry. There needs to be proof of the immigrant spouse entering the United States legally, such as a copy of their visa, an arrival/departure record, or other relevant documents.
Genuine marriage documents. Joint accounts, photos of the couple together, official accounts from friends and family can all be used to prove the marriage is a true union, which will illustrate that marriage is not to be pursued fraudulently.
Forms and examinations. Depending on your specific situation, there may be specific immigration forms that need to be filed and medical examinations that need to be passed. There are necessary filing fees associated with immigration applications and filings, too.
Immigrating through marriage is not always simple, but there are professionals who are familiar with each form and requirement. A West Palm Beach family attorney who specializes in family-based immigration cases can guide you through the entire process to increase your chances of success.
Connect with a Florida Family Lawyer
Should you talk to an attorney about navigating the immigration process through marriage? The family attorneys at Bruce S. Rosenwater & Associates will provide you with years of experience and expertise. Book your free initial consultation today.