Florida Grandparents Rights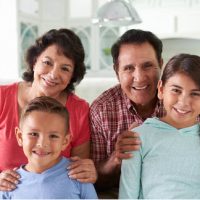 When a marriage ends, there are often family members beyond the two spouses who experience impacts from the divorce. For example, grandparents who were accustomed to visiting with their grandkids on a regular basis may no longer have the same access to the children when custody agreements are put in place.
It is important to understand the words custody and visitation when it comes to a divorce agreement. Custody is a broader term, applicable to the physical or legal custody of a child, while visitation is set periods of time.
If you are wondering what legal rights you have as a Florida grandparent, when it comes to custody or visitation, talk to a West Palm Beach family attorney. In many situations it is up to the parents to decide when children can see their grandmother or grandfather, but there are some situations in which grandparent visitation rights can be established.
When Grandparent Rights Can Be Established
It is difficult to legally establish grandparent rights, but if the right criteria is met, it is possible. It used to be that grandparents could petition a court for visitation if a marriage ended, a child was deserted, or the parents of the child were never officially wed. There were changes made to the rights in 2015. Now, the following can lead to grandparent rights.
Parents are deceased.
Caregivers are unable to care for children or are missing.
Risks to minor's welfare or health.
A parent has been convicted of a violent offense or felony.
These Florida rules make it difficult for grandparents to access rights with their grandchildren.
That said, each state has its own rules. Depending on where a divorce is taking place, custodial and visitation rights could differ. There is no uniformity on a state to state basis when it comes to grandparent rights. An attorney can address any questions or concerns you have once they are told where the grandchild is currently living, who has primary custody, and where the divorce agreement is going to be or was finalized.
Discussing Agreement Options
Establishing a parenting plan that is in the best interests of the children is an important part of the divorce process. While a plan is being negotiated, there could be discussion of including time with grandparents. Or, when a parent is granted holidays or school breaks, they can choose to spend that time with their kids and their parents, who are the grandparents. Talk through your options with a West Palm Beach family attorney.
Do you have questions about how to establish a parenting agreement that includes time spent with other family members, including grandparents? To access the agreement you are seeking, talk to an experienced family law attorney. Once the legal team at Bruce S. Rosenwater & Associates understand your objectives, they can strategize a path to your desired outcome. Turn to qualified Florida lawyers, professionals who have the skills and resources you need, to guide you through the process of negotiating a parental agreement and custody arrangement. To learn about what is possible for you, book a consultation.