Divorcing An Abusive Spouse: A How-To Guide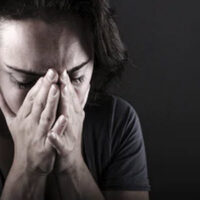 When women are asked why they stay with abusive partners so long, they generally answer that they were afraid to leave or even broach the topic of going their own way for fear that their partner would harm them or their children. Oftentimes, victims of domestic abuse feel like there is no way to safely break free of a partner who is willing to harm them. However, abuse in the marriage is listed as the seventh most common reason for divorce in America. So how do those who endure abusive situations successfully break free of controlling and abusive spouses?
Silently secure important documents 
The first step that you'll want to take is to get your important information before you make a move. This will include passports, social security cards, insurance documents, mortgage information, other financial documents, and bank account information. This will make it impossible for your spouse to hide these assets.
Silently establish financial independence 
Once you have your documentation in hand, you will want to ensure that you have your own accounts to live on. You will need new accounts that don't have your spouse's name on them. In most abuse scenarios, the abuser controls all the money and makes all the financial decisions. Ultimately, the abuse is about control. You will need to establish a financial identity outside of the marriage. Opening up your own accounts is the first step.
A safety plan 
Prior to divorce, you will want to establish yourself somewhere else. This could mean with relatives or, if no relatives are available in your hometown, a women's shelter may provide a temporary alternative. For those with children, the issue is compounded because it's not only yourself that you're responsible for. The children will also need to be situated in a safe place. Reaching out to counselors, social workers, or others whom you just can help you break free of an abusive relationship.
Finding a lawyer 
Lawyers don't just go over financial documents and try to get you as much money as we can, we also help those in abusive situations to connect with community resources that can prevent the worst. This may also include getting temporary public assistance for those who cannot break free of their financial dependence on a controlling spouse.
Once it is time to make your intentions known to an abusive spouse, you can choose to route all communications through your attorney. You may also be able to get a temporary restraining order. If you get a TRO, the government has a right to confiscate any firearms that the accused has access to. Additionally, all attempts to contact you will be considered acts of violence and aggression.
Talk to a West Palm Beach Divorce Attorney Today 
Are you in an abusive marriage from which you don't feel safe escaping? Contact the West Palm Beach divorce attorneys at Bruce S. Rosenwater & Associates today to discuss your situation in more detail. We can help.