What Can a Guardianship Attorney in West Palm Beach Do for Me?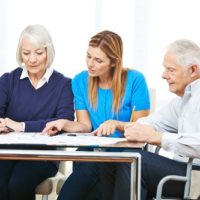 Guardianship law can be complicated, but it's designed to keep the best interests of minors and adults in mind. Guardianship is granted to protect the best interests of children and adults with physical or mental disabilities. These individuals are not able to make decisions in their best interests, so it's the job of the guardian to do so. If you are seeking guardianship over a loved one, it's important to find a guardianship attorney in West Palm Beach that can help you through the process. At Bruce S. Rosenwater & Associates, P.A., we're here to assist with your guardianship law processes.
How does a guardianship attorney in West Palm Beach help?
Guardianship is determined through many legal processes, including court decisions. For minors, the court determines a guardian when parents pass away, or when they're incapable of parenting the children. Guardianship for minors may also be established when a minor receives an inheritance or proceeds from an insurance policy of lawsuit exceeding the state maximum.
Guardianship questionnaires can help you determine whether or not you'll fit the requirements for guardianship of a minor or loved one. Questions examine qualifications, such as:
Previous reports of abuse by the applicant
Fraud charges placed on the applicant
Education level of applicant
Applicant health care abilities
Applicant employment experience
Any other crimes
Applicant positions with bonding
Previous bankruptcy filings
Previous guardianship serving
Real estate & financial holdings
Applicant armed forces service
These factors help determine an applicant's ability to provide the best guardianship services to a minor or an adult loved one. Finances, employment history and other factors all play into the qualification of guardianship. At Bruce S. Rosenwater & Associates, P.A., we can help you through this process.
What about guardianship of an adult?
Adults often need the assistance of guardship attorneys in many situations. Age may result in an elderly loved one needing a guardian. Other factors, such as physical and mental disabilities, may call for guardianship. Our guardianship attorney in West Palm Beach can help you find your best fit for looking after a loved one as their legal guardian. The process is very similar to that for minors.
How can I get started?
Determining guardianship doesn't have to be a huge struggle filled with runaround and other challenges. At Bruce S. Rosenwater & Associates, P.A., we're here to help. Call our West Palm Beach guardianship attorney today at 561-688-0991 to get started.