Ray J and Princess Love Headed for Divorce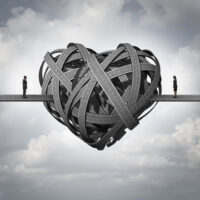 American singer and television personality, Ray J, has announced that he and his wife, Princess Love, are headed for divorce. The two have been in rocky waters since it became known that they were having marital difficulties, but there was speculation that the two were headed toward reconciliation. That appears not to be the case.
Two months earlier, Princess Love requested that her own divorce filing be dismissed. At the time Love filed for divorce, the couple was living apart. The children were staying with her while Ray J was living on his own and dropping by for daily visits. A source close to the couple said that the couple was not discussing divorce.
Ray J is seeking joint custody of the couple's two children, Melody Love, and Epic Ray. Ray J is asking that the couple's prenuptial agreement be enforced.
Ray J and Princess Love have been married since 2016.
Another Casualty of Quarantine? 
The couple's problems started right around the same time that quarantine began. Ray J said he was recording in the studio when the quarantine was imposed. He was required to keep himself in a 14-day lockdown.
However, the quarantine may have not been the primary cause of this divorce, only, perhaps, the catalyst. In an Instagram post, Love intimated that she was done with marriage and that she didn't have time for any of the strife that was coming from it. She said "this is not love" and "I'm done".
This triggered speculation that the couple was likely headed for divorce. But oftentimes, social media has become a platform for celebrities (and everyone) to simply vent their frustrations. That seemed to be the case when the couple tried to make things work and Love dismissed her own divorce filing.
Like so many other couples, the quarantine acted as a catalyst to expedite the decision to divorce. With couples around one another 24 hours a day and seven days a week, there has been very little reprieve from the tension and stress that most relationships suffer from.
Celebrity Divorces 
The problem for celebrities when it comes to maintaining a marriage is that everything they do is under a microscope. Most people don't have to deal with the kind of visibility that a celebrity has. This adds a strain onto these relationships. Add to this the stress and claustrophobia of the coronavirus and you have a perfect storm.
The Prenup 
Ray J is asking that the court enforce the prenuptial agreement that the couple agreed to when they tied the knot in 2016. This is generally only a formality. So long as the prenup isn't "unconscionable", fraudulent, or places either party into poverty, the court generally enforces the prenup.
Talk to a West Palm Beach Divorce Attorney Today 
If your marriage is headed for divorce, it never hurts to contact a West Palm Beach divorce attorney to determine your assets and liabilities and control the process as much as you can. Call Bruce S. Rosenwater & Associates today to learn more about how we can help.
Resource:
extratv.com/2020/09/14/ray-j-files-for-divorce-from-princess-love/
https://www.rosenwater.com/cardi-b-files-for-divorce-says-no-prospects-for-reconciliation/