Mediation Can Be a Path to an Amicable Resolution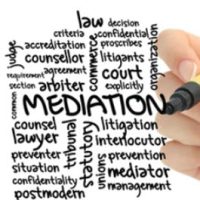 Divorce is a challenging life adjustment, and many report struggling to balance their own emotional upheaval with the details of legal complexities. But there may be a path to an amicable resolution, one that doesn't involve the stress and expenses of litigation. A popular alternative divorce method is mediation.
To determine if mediation would be an appropriate resolution method for you, share your current situation and your hopes for your future with a West Palm Beach family attorney.
A Cost-Effective Way to Preserve Relationships
Mediation is a more cost-effective resolution option than traditional litigation. This is true for a range of reasons, including that mediation is a streamlined process, so it requires fewer sessions and less legal involvement. As a result, there is a reduction in attorney fees and court costs. All of this efficiency also means the process generally takes less time. Connecting with a divorce agreement that both parties are comfortable with quickly allows couples to move forward with their lives.
And if you will be co-parenting, avoiding the adversarial nature of traditional litigation can preserve your ability to communicate with your ex-partner. Divorce mediation fosters a cooperative environment where both parties work together to find solutions, and this approach can pave the way for a more positive post-divorce relationship.
Parents also appreciate that divorce mediation gives them control over parenting plans and custodial arrangements, so they have decision-making authority over the tools they need to craft child-centric solutions to problems that arise when transitioning from spouses to co-parents. Mediation offers the flexibility to create plans that prioritize the well-being of kids, and this collaborative approach can result in productive co-parenting arrangements that cater to unique family dynamics.
Less Emotional Strain and High Success Rates
Anchored in open communication and understanding, mediation can reduce emotional tensions. The mediator allows the divorcing individuals themselves to come up with creative solutions. This is an opportunity to explore innovative solutions, often ideas that are not available should traditional litigation be pursued.
When people are empowered to make decisions it promotes involvement, which is one of the many reasons why mediation has a high success rate in achieving mutually agreeable settlements. The collaborative environment often leads to more comprehensive agreements that both parties are satisfied with.
Many report being pleased they choose mediation because it made the divorce process smoother, less stressful, and provided a way to end a marriage while still being able to maintain a positive relationship moving forward. Divorce mediation is an alternative resolution option with a myriad of advantages. Discuss your reasons for being interested in mediation, whether you're interested in its cost-effectiveness or prioritizing children's needs, with a West Palm Beach family attorney today.
Are you considering mediation? The divorce attorneys at Bruce S. Rosenwater & Associates can review your circumstances and guide you toward the best possible resolution. Should divorce mediation be appropriate for your needs, you will have access to a path that empowers you to make decisions that suit your family's needs, while promoting cooperation and respect during a challenging time. Book your free initial consultation to learn more.