Is Divorce Mediation An Option For Me?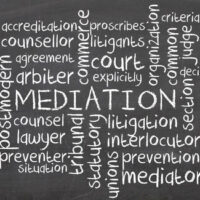 For many, a divorce is an emotional period of their lives. Life goals are changed, individuals move, and there can be a big financial shift. This can result in long arguments and heated disputes. But there are times when guidelines can be agreed upon. If you and your soon to be former ex agree on major items, divorce mediation could be a solution for you.
When mediation is possible, court can be avoided. If you are thinking a mediation could work for you, talk to a West Palm Beach family attorney about what the process would be like and what you could expect.
Mediation Gives You More Control
Court is sometimes a necessary part of the process, but the divorcing couple will have more control if they can reach an agreement through the mediation process. After all, when divorce disputes are decided by the court, they may or may not side with your position.
If communication is possible, a compromise could be in the best interests of all involved. There are mediation benefits, including the following:
The individuals involved have more control over final decisions.
Process is typically shorter and less expensive.
Flexibility could be part of the resolution.
Mediation process is private.
Proceedings in a court of law are not private. When there are marital details you or another party wants to keep behind closed doors, mediation could be a preferred path.
There Can Be High Costs Involved in a Court Dispute
When a divorce ends up in court the costs can be higher than they would have been had the individuals discovered an agreement through mediation. One estimate reports court expenses and other legal fees can result in a divorce costing thirty thousand dollars. Assuming that this amount is split, a court divorce would cost each individual fifteen thousand dollars. That's money that could be used to set up a new life.
To achieve fast, cost-effective results, mediation is an attractive option. When a lot of the issues are ironed out in advance, a single session of mediation could be all that is required. If there are complexities, more than one session could be necessary, but even multiple mediations could be a smoother process than going to court.
Surprises are possible when you go to court. Even if you believe the facts make your side of the story clear, things can change quickly. If you are frustrated with how your divorce is progressing, be sure you have the legal guidance you need. A West Palm Beach family attorney can assess your situation and let you know if mediation or a court appearance is the best match for your situation.
Are you wondering if mediation could be a solution for you? Discuss the details of your situation with the experienced legal professionals at Bruce S. Rosenwater & Associates. Our firm has the skill, resources, and experience you need to move forward with your life confidently. Family law can be complex, connect with a professional. If you need a family lawyer on your side, contact our team today.