Could Divorce Rates Cause a Boom in Property Sales?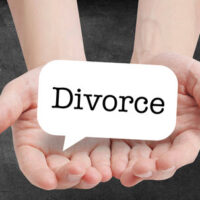 Ever since the housing bubble of 2008, property values have steadily increased reaching similar numbers seen prior to the bubble bursting. In fact, real estate has become one of the most stable investments in the country. Why? Because there are more millennials right now seeking homes than there are sellers right now. Low inventory has caused property values to skyrocket as more and more folks take to the housing market.
But if what we're hearing about the coronavirus is true and couples are experiencing a statistically-high amount of marital strife, then we could see a number of homes being sold off as part of a marital state. This means more inventory, more supply, but what will the demand look like?
The Demand Will Probably be Low 
Divorce isn't the only thing creating problems for the housing market right now. In fact, it's one of the least likely reasons why a house will end up on the market. The most likely reason is foreclosure. And while the federal government has extended some protections to homeowners, those protections aren't nearly as broad as most think.
COVID-19 Foreclosure Protection 
The COVID-19 foreclosure protections prevent banks from foreclosing on mortgages, but that's where the protection ends. The protections will run out in another month or so and then borrowers will be expected to repay the entire arrearages plus their future payments. Further, these provisions only apply to federally-back Freddie Mac or Fannie Mae loans. So not all borrowers are protected from foreclosure.
Those who are having difficulty making payments are being asked to negotiate with their borrowers to find some resolution. But not everyone is going to be extended a second chance on either their mortgage or their car loan. The bank still has the authority to reject any changes to the loan agreement. That being said, it's a great time to refinance if that's an option for you.
But the bottom line is that (more likely than not) there will be a flood of houses on the market with precious few in a financial position to make a very long commitment to a mortgage loan.
Divorce and Property Sales 
Divorce is the second stressor that's likely going to create problems for the housing market—at least from the seller's side. We could be looking at the first buyer's market that we've seen in over a decade. This could be great news if you've managed to weather the economic storm produced by the coronavirus and are looking to invest in a new home. It's less good news if you're one of the divorcing couples that are attempting to liquidate their assets in a post-coronavirus economy.
Talk to a West Palm Beach Divorce Attorney 
If you're one of the many couples whose marriage did not survive the coronavirus, call the West Palm Beach divorce lawyers at Bruce S. Rosenwater & Associates today to schedule an appointment and learn more about how we can help.
Resource:
uk.finance.yahoo.com/news/coronavirus-lockdown-divorce-spike-could-boost-property-sales-by-93-bn-230111377.html?guccounter=1&guce_referrer=aHR0cHM6Ly93d3cuZ29vZ2xlLmNvbS8&guce_referrer_sig=AQAAAIh3VKNJpFaFILSWsxg10YnBJWBQP2n7_9JViAoVjagcqj04Z16WIo0DqA2sgK8bK4Iu9DN6Xnmc6yBQYHaA2Z5kSnoj_Nkbr3rQYfHVFMbyqHpGL_OWu120HnkVQVFnnPOk0F2i7LbD3cxlxWlhgdg0Fz5Ko_EsZlvYHC_efLvT
https://www.rosenwater.com/angelina-jolie-reveals-why-brangelina-is-no-more/