Children Of Rape And Parental Rights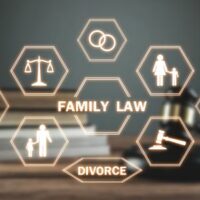 In 30 states in the country, evidence of rape can be used to terminate a claimant's parental rights. In other states, restrictions are put in place, and in some other states, parental rights can only be terminated after a conviction. According to sexual assault survivors, this creates a situation where the federal government requires a rape victim and her child to remain attached to a rapist throughout the duration of the child's life.
The law in Florida is much more sympathetic to rape victims now than it was in the past, after one survivor took to lobbying on behalf of women who later became chained to their rapists vis a vis custody arrangements. While Florida courts didn't necessarily err on the side of rapists, each victim who was going before a judge was rolling the dice on the judge's decision. One activist and survivor changed all that by successfully lobbying for better laws to prevent such actions from making it before a judge. The new laws prevent the courts from requiring an actual conviction before denying a rapist custody rights.
Nonetheless, not all women across the U.S. enjoy such protections.
The Rape Survivor Child Custody Act 
In 2015, the federal government passed a law that encouraged states to impose some restrictions on rapists attempting to seek custody of children born of rape called the Rape Survivor Child Custody Act. The federal government does not have jurisdiction over family law issues, so instead of passing a law, their only option was to incentivize states with federal money to prevent rapists from acquiring custody of their children.
Alabama 
Alabama appears to have had the biggest issue with the legislation. In 2019, Alabama passed a law restricting abortion even in cases of rape or incest. Alabama was also one of the 20 states that did not prevent rapists from pursuing custody of children. It created a situation where a person could rape their way into fatherhood and create a permanent bond between themselves and their victim that was enforced by the state government of Alabama. Alabama remains one of the states that require proof of conviction to terminate a father's parental rights over a baby.
Child support and rapists 
The way rape cases are handled is often not good. A victim can receive child support from a rapist, but they are generally forced to maintain a court-based relationship with the attacker because the issue is processed through family court. Future bills could require rapists to pay child support through criminal court, which would not force rapists and victims into the same room.
Talk to a West Palm Beach Divorce Attorney 
The West Palm Beach divorce attorneys at Bruce S. Rosenwater & Associates can help individuals seeking to file divorce in the state of Florida. Call today to learn more about how we can help you secure the foundation of your future and protect your interests moving forward.
Resource:
independent.co.uk/news/world/americas/alabama-abortion-ban-rape-victims-rapists-parental-rights-a8951751.html