"Breadwinner Stress" May Increase Chances Of Relationship Failure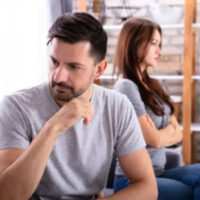 The University of Pennsylvania studied how men's status as "breadwinners" can cause the breakup of relationships that value men as the primary earners for their families. In fact, cultural values that position men as primary breadwinners can have a profound impact on whether or not a relationship survives periods of unemployment or difficult financial situations. The research includes predictors on how long a relationship will last after a primary breadwinner loses their job. The study indicates that gender culture is a primary indicator of how well a marriage can survive men who have recently lost their jobs.
The study 
Researchers surveyed heterosexual couples from the United States and various affluent European countries. Each country was rated on how gender-conservative or gender-progressive they were. For the most gender-conservative countries, about 33% of the population believed that a man's role was as the primary breadwinner. That number dropped as low as 4% in gender-progressive countries. The couples were studied over a period of four years. Researchers focused on employment changes, marital stress, and divorce.
While it doesn't take a genius to make an educated guess as to how the study played out, and the results of the study were not counterintuitive, it bears mentioning anyway. Researchers found that males in gender-conservative countries suffered more stress than their counterparts in gender-progressive countries. Men who lost jobs in gender-conservative countries not only faced a loss of income but a loss of social status and self-esteem as well. Men in these countries would be less willing to take government support and suffer self-esteem issues if they had to go on public assistance or declare bankruptcy. Essentially, the loss of the job equated to a loss of status for masculine identities in gender-conservative countries. As the male's status declined, so too did their chances of sustaining their relationship. Job loss in gender-conservative countries equated to higher levels of relationship stress and a greater chance of relationship failure.
LGTBQ Couples 
The study surveyed only heterosexual couples in Western countries. It seemed to indicate that men who believed their role was the "head of the household" or "the primary breadwinner" had a lower chance of sustaining their relationship through financial problems. When couples discuss the reasons for their divorce, financial stress is always at the top of the list. It's still true that America is primarily a gender-conservative country.
Nonetheless, the advent of LGBTQ marriages may be able to better inform pluralistic approaches to this method. Since the issue is gendered, and the LGBTQ community doesn't conform to conservative gender roles, it stands to reason that their relationships would survive financial stress better than traditional heterosexual couples. Perhaps there is something that gender-conservative countries can learn from the LGBTQ community.
Talk to a West Palm Beach Divorce Attorney Today 
If your marriage is no longer sustainable, call the West Palm Beach divorce attorneys at Bruce S. Rosenwater & Associates today to learn more about how we can safeguard your interests post-divorce.
Resource:
futurity.org/men-unemployment-relationships-2583502-2/