Are Phone And Video Calls Part Of A Parenting Plan?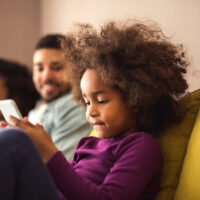 It is natural for a parent to want to call and chat with their kids when they are visiting their other parent. They may be motivated to stay connected and let their kids know they miss them and care about them, for instance. The problem is the other parent could find these calls intrusive. But when expectations are set in advance, communication could be part of a productive co-parenting arrangement.
To learn more about how a well-crafted parenting plan could help you co-parent effectively, talk to a West Palm Beach family attorney.
Ages of Children Could Be Taken Into Account
When developing a parenting plan, the ages of the children will be part of the process. For example, when children are very young, scheduled video chats and phone calls may help to ease the transition from one home to another. It could be appropriate for their development. But as kids get older, less frequent video chats may be necessary.
Situations when parents may want to schedule times for video chats or phone calls:
Children are small and would benefit from connection during home transitions.
There is surprising news that is timely and needs to be communicated.
One parent's time had to be canceled but they want to have a connection with the kids.
Talking through your unique situation with a skilled attorney can help them understand what your parenting goals are so an appropriate parenting plan can be developed. Taking time to craft the right parenting plan for your family is a path to co-parenting peacefully.
Importance of Respecting Boundaries
To avoid disputes and fights, it is beneficial to respect boundaries when it comes to co-parenting. So, if one parent feels regular texts and phone calls are creating conflicts, addressing those concerns by talking them through with a family lawyer could be appropriate. Then, the issue can be resolved and the dispute will not have to be navigated by the children.
Of course, there are times when unexpected events occur. Communication may be needed to share surprising news or adjust to a schedule change. Exceptions can also be listed in a parenting plan. After all, the plan should help a child seamlessly transition from one household to the other and back on a regular basis.
While parenting plans are one of many things that need to be considered during the divorce process, it can be helpful to view them as important guidelines for your future rather than an unpleasant task. An experienced West Palm Beach family attorney can help you pave a path forward. Through negotiation, clear parameters surrounding parental schedules and responsibilities can be made.
Do you feel your parenting time should not be disrupted by calls from your ex-spouse? Discuss the details of your situation with the experienced legal professionals at Bruce S. Rosenwater & Associates. Our firm has the skill, resources, and experience you need to move forward with your life confidently. Family law can be complex, connect with a professional. If you need a family lawyer on your side, contact our team today.