Unique Concerns Of A Gray Divorce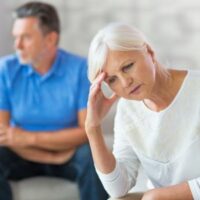 Have you heard the term gray divorce? It is a relatively new phrase coined to describe a trend among couples choosing to end their marriages later in life. While overall divorce rates have dropped, gray divorces have increased. A gray divorce is a divorce between individuals who are over the age of 50 and have been married for a long time.
There are unique concerns when you choose to end a long-term marriage. There can be an incredible impact on your personal finances, mental health, and personal life. To talk through the details of your situation and strategize for your future, connect with a West Palm Beach family attorney.
Adult Children and Family Concerns
When people think of how a divorce will impact children, they are often thinking of minors. But the truth is parents divorcing has an effect on children no matter how old they are, they could even be adults with families of their own. It is possible adult children will not want their parents to divorce, which can lead to a lot of emotional tension.
Mental health issues are possible when it is difficult to separate from a spouse and there is distress in a family you have relied on for support. It is important to care for yourself. Adjusting to a new lifestyle can take time, but there are support systems that can help. Many find counseling beneficial. Others immerse themselves in hobbies and areas of interest where they can meet new friends and thrive.
Seek Legal Guidance on Financial Concerns
Choosing to end a marriage later in life can be complicated financially. There are solutions, but it is important you have a legal professional who is putting your best interests first. Taking the word of your spouse's lawyer could result in you agreeing to far less than you have a right to.
Some of the financial concerns that will need to be addressed in a gray divorce include the following:
Retirement and investment accounts
Socials security benefits and pension
Spousal support
Property and asset division
Long-term care plans
If the divorce is amicable, it may be possible to negotiate how finances will be distributed. But there are situations where the parties involved are unable to communicate effectively with one another. In those situations, the lawyers of each spouse can negotiate offers and counteroffers until an agreement is reached.
Retired individuals in Florida should have the time and resources they need to pursue their interests and enjoy their lives. To be sure this is true for you after your gray divorce, talk to a West Palm Beach family attorney.
Are you over 50 years old and are preparing to end a long-term marriage? Connect with the experienced legal professionals at Bruce S. Rosenwater & Associates. There are many factors to consider when going through a gray divorce. After decades of marriage, there are likely more assets and debts to distribute, for example. Divorce can be complicated, contact with a Florida lawyer today to secure the future you deserve.