Preparing For A Divorce Includes Organizing Financial Documents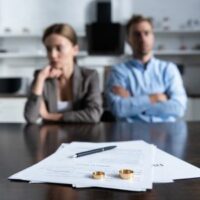 Considering and then pursuing divorce can be a stressful process. After all, dissolving your marriage will impact many areas of your life. One area that will be assessed is your finances. When you are organized throughout the process, it can help you to determine exactly what you want to prioritize moving forward.
For example, some individuals feel it is important to retain the marital home. Others want to secure a certain level of investment assets. Divorce can be a difficult period in a person's life, but an experienced West Palm Beach family attorney can explain the process each step of the way and help you secure the future you want.
A Few Things to Keep in Mind
Every situation is unique, but there are some basic guidelines you can follow if you are organizing your finances in preparation for a divorce, including the following.
Gathering records and collecting documentation. When people think of collecting their financial records, they often think of bank accounts and incomes. While these are important in assessing finances, they are far from the only assets. You will also want to collect documentation of loan balances, wills and trusts, retirement accounts, personal investments, and any insurance policies that have been set up before and during your union.
Personal debt and properties. Once your records are collected, you can talk to your attorney about the scope of your marital finances, including debt and assets. If there is debt, it will need to be determined who will pay off those loans. Or, if a payoff is't possible, who will continue payments once a divorce is finalized.
Considering future needs. Also, you will want to take some time to analyze what our household budget will be once your divorce is finalized. Doing so will help you and your attorney what is fair in terms of asset allocation and if support payments will be necessary.
Open personal accounts. Joint accounts will need to be separated.
It can feel overwhelming at first, but once you have clarity surrounding your current financial situation and your future needs, it can be easier for you to land on a divorce agreement that is advantageous for you moving forward. Other items to share with your attorney include estate plans and premarital agreements.
Talk to a West Palm Beach Attorney Today
There are many factors to consider when pursuing a divorce in Florida, but it can also be empowering to understand your options once all the information you need is compiled. Being proactive today can pave the way to a more relaxed tomorrow. Discuss your financial options with a West Palm Beach family attorney.
Are you considering a divorce but are unsure of how to handle your finances moving forward? Discuss the details of your situation with the experienced legal professionals at Bruce S. Rosenwater & Associates. Our firm has the skill, resources, and experience you need to move forward with your life confidently. Family law can be complex, connect with a professional. If you need a family lawyer on your side, contact our team today.