Kids And Family Stress During The Divorce Process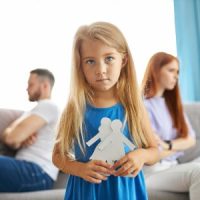 Ending a marriage is not only stressful for the individuals choosing to separate and divorce, kids and other family members may have trouble accepting the marriage is ending and experience elevated levels of stress. Support systems are available to help kids and their parents navigate huge life changes, such as a divorce.
Even when you and your spouse are in agreement about the terms of the divorce, hiring a West Palm Beach family attorney is an important way to protect yourself and your future. And if you are in a high conflict divorce, asset and debt division is likely going to be more complicated and you will need legal support.
Adjusting to Changing Relationships
For the kids, there is often a shift in relationships when their parents decide to divorce. This could take place in any of the following situations.
Geographical move to another location leads to school and friend changes.
One parent becomes non-custodial, seeing their kids less frequently.
Extended family relationships are strained as a result of the divorce.
Daily connections, such as neighbors, no longer occur due to schedule changes or moves.
If it is possible to land on a relationship as co-parents, that is beneficial. But if it is not possible, take advantage of support systems. For instance, your lawyer can negotiate all the terms of your divorce with your spouse's attorney, then you can approach your relationship with your soon-to-be-ex spouse as a business relationship, instead of attempting to force a friendship.
As much as possible, try to avoid parental fighting in front of the kids. While arguing might feel good or cathartic for the adults, it is stressful and upsetting for kids. When kids overhear or witness conflict between their parents, they often feel they are in the middle of the dispute, even when the argument has nothing to do with issues surrounding child rearing. If at all possible, keep conflict levels low, maintain a sense of consistency, and maximize the quality contacts that allow your kids to thrive.
Financial Shifts and Emotional Strain
It is also possible for a family to feel emotional strain due to financial pressure as well. Going from one household with two incomes to two separate households, for example, often comes with budgetary tightening. This could lead to shifts in standards of living, at least temporarily. But there is a way to secure what you want in the long run, talk to a West Palm Beach family attorney to learn more.
Is the tension of your upcoming divorce causing issues within your family? There are ways to move forward, connect with the seasoned legal team at Bruce S. Rosenwater & Associates. Once our attorneys understand the details of your situation, they can share strategies with you. There may be a way to reduce the stress in your negotiations, such as taking advantage of mediation opportunities or arbitration. With years of experience, our Florida lawyers can help you achieve the future you are seeking tomorrow while providing you with solutions for today. To get started, book a consultation with a qualified attorney.