Examples Of Digital Harassment During The Divorce Process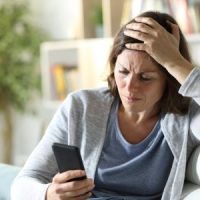 Digital harassment during a Florida divorce process is more common than most people think, and cyberstalking, identity theft, and social media abuse result in significant emotional stress for those involved.
A West Palm Beach family attorney can provide you with guidance throughout the divorce process, including letting you know when digital harassment has crossed a line into illegal activity that could result in criminal action.
Identifying the Type of Harassment and Keeping Records
One of the things you can do to begin to shield yourself when digital harassment occurs is to keep records of all communication and report the harassment to the appropriate authorities. This could be the right course of action if you are being subjected to any of the following examples of digital harassment.
Social media attacks. One of the most common forms of digital harassment is attacks through social media. Past partners sometimes use their social media accounts to post negative comments before, during, and after a breakup. They may also use the platforms to share personal information publicly.
Participating in cyberstalking. A form of harassment where the perpetrator uses the internet, email, or other digital communication, cyberstalking could come in the form of unwanted emails, text messages, or voicemails from a soon-to-be-ex spouse.
Accessing unauthorized information. Hacking can be digital harassment, including gaining unauthorized access to assess another's online activity or steal their personal data and information.
Identity theft. When fake websites and social media accounts are created to embarrass and attack an ex, it is a form of digital harassment and is a type of identity theft which could include transfers of financial resources without the victim giving authorization.
Records of what you have experienced means you can take the information to legal professionals and authorities in order for you to assert your rights and be protected from privacy violations. This means saving emails, voice messages, and online content connected to your digital harassment. Many find capturing screenshots, complete with the date and time stamps, to be helpful when gathering documentation.
Steps to Halting Contact 
Whether you are receiving unwanted emails or being contacted on social media and want the messages to stop, there are steps you can take. A first step you can initially take includes using all of the digital protections available to you, from increasing filters to not engaging with anyone outside of your preferred contacts online.
But of course, there are situations that are far beyond the control of spam filters. Talk to law enforcement about all illegal activity and talk to West Palm Beach family attorney about how to facilitate the divorce process.
Are you being digitally harassed? There can be a lot of emotions when a Florida marriage ends, and sometimes individuals lash out, but there are ways to protect your rights if you are being harassed. Share your concerns with a legal team who can connect you with the life you want once the divorce is finalized, talk to Bruce S. Rosenwater & Associates to learn more. Schedule your free initial consultation today.