Caitlyn Jenner Talks About Her 2014 Divorce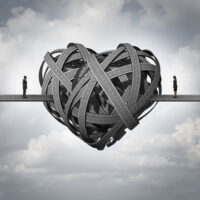 It takes a great deal of courage for a person to admit to themselves that their body and mind are in conflict. It takes even more courage to begin the process of transitioning. For those who are married at the time that they recognize who they are, it can be very difficult for them, their children, and their spouse. However, when Caitlyn (then Bruce) and Kris Jenner separated, Caitlyn says it wasn't trans issues that pushed them there. While she says that there was no animosity between her and Kris, she also says that the two former partners had changed so significantly throughout the course of their marriage, that remaining in the marriage was untenable. The two mutually agreed it was time to split up. Jenner recalls that there was no animosity.
Most Spouses Will Have a Difficult Time 
While trans issues did not impact the Jenners' decision to call it quits, it certainly does impact a lot of couples' decisions to find a partner elsewhere. Typical emotions surrounding the announcement include anger, shock, and sadness. There will be some spouses who seek to comfort the spouse who is announcing they are transgender. Some will burst with emotion, while others will need time to process the news.
What's for certain is that it's a revelation that will change not only how you think about the most important person in your life but also how you think about yourself. Are partners who were formerly straight now gay? Are partners who were formerly gay now straight? Will you still be sexually attracted to your spouse after they've transitioned? If you have children, what will they think?
In some cases, the spouse hearing the news may be extremely averse to what they are hearing. Some spouses feel betrayed by the fact that the person they chose to spend the rest of their life with kept such a big secret from them for so long. Other spouses may, for religious or cultural reasons, find the entire concept of changing gender identity immoral. This can become an issue when custody battles loom over a divorce.
What Happens After a Partner Transitions? 
Legally, your marriage remains intact. Logistically, there will be some who choose not to remain in the marriage citing irreconcilable differences and moving on with their life having an amicable relationship with their spouse. Others can feel violated and ashamed of the fact that their former spouse is now the opposite gender. When there are children involved, this can get quite ugly.
The best thing for the children is that both spouses, regardless of their attitude toward trans issues, work together for the benefit of their children. Courts will not allow a spouse to cite trans issues as a reason for denying custody or visitation to children. So working together is the most successful possible outcome.
Talk to a West Palm Beach Divorce Attorney Today 
If you're contemplating divorce, the West Palm Beach divorce attorneys at Bruce S. Rosenwater & Associates will have your back and advocate for your interests. Talk to us today to set up an appointment.
Resource:
usmagazine.com/celebrity-news/news/caitlyn-jenner-reflects-on-2014-divorce-from-ex-wife-kris-jenner/