Divorce Hearings In Florida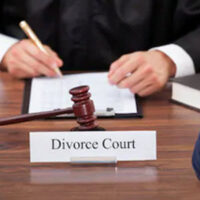 A divorce hearing is often part of the divorce process, it is not a court trial. Instead, it is a time to clear up issues that need to be established. When a divorce is complex, there may be multiple hearings.
It can be stressful to think about going to a divorce hearing, but it could be a necessary step in moving your life toward the future you want. A Florida divorce lawyer can inform you on what to expect and together you can prepare for the process. If you are unsure what you will need or how to get started, connect with a West Palm Beach family attorney.
Issues with Moving from Married to Single
For some, a marriage can be dissolved quickly through mediation, but this is not true for all couples seeking to end their marriages. Many couples going through the divorce process find themselves disagreeing about multiple issues. At a divorce hearing, some of these matters can be ironed out, guidelines can be put in place until the divorce is finalized.
This could include any or all of the following:
Child custody arrangements
Health insurance concerns
Establishing who stays in the marital home
Support payments and other financial needs
In cases where abuse is present, protections may be put in place. This could include restraining orders against a spouse or the denial of child visitation.
When a divorce is not complex, a hearing may be less antagonistic. It could be simply procedural, an opportunity to schedule items and assess if any further documentation is needed. And if evidence is needed, who will acquire it and when.
Meetings and Appearances
Once you have shared your story with your lawyer, they can strategize the best path forward. If you need to appear at a hearing or make a divorce court appearance, they can help you prepare in advance. Then, you will be confident going into a legal situation, which is unfamiliar to many who do not work in the field.
While staying calm is not always easy when facing an emotional problem, being prepared can help. Divorce is emotional, but it is also procedural. Taking time to prepare and boosting your individual confidence may help to strengthen your resolve.
The process of divorce, including meetings and hearings, can be stressful. When you know what to expect, situations may be less intimidating for you. Remember, when you hire a West Palm Beach family attorney, they work to support you and bring the results you want. For some the divorce process is clearcut. Others are facing a long dispute. Either way, protect yourself and your future with legal representation.
Do you want to learn more about what to expect during a divorce hearing or an appearance in divorce court? Discuss the details of your situation with the experienced legal professionals at Bruce S. Rosenwater & Associates. Our firm has the skill, resources, and experience you need to move forward with your life confidently. Family law can be complex, connect with a professional. If you need a family lawyer on your side, contact our team today.